It all comes down to Spain, as the final racer of the 2018-19 SBMRL season will take place at the Circuit de Catalunya in Barcelona.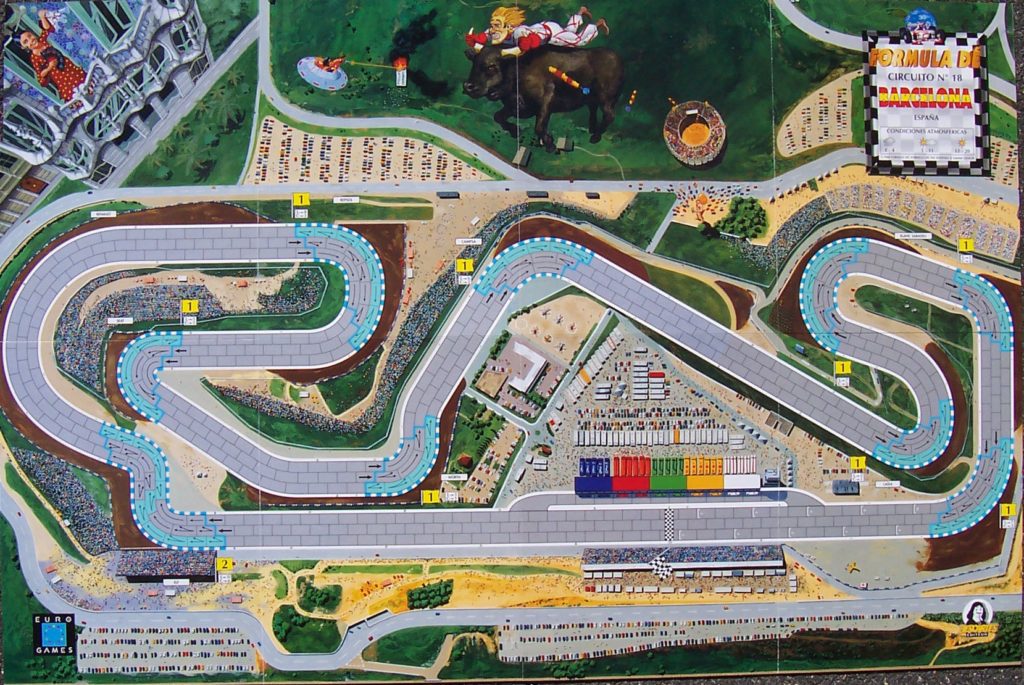 Formula 1's offseason testing track, Circuit de Catalunya was built in 1991 and played host to the Spanish Grand Prix that very year. During the 1992 Summer Olympics, it hosted the cycling team time trials event.
The starting grid sits pushed back on the extremely long pit straight which means that starting position won't be a significant factor in the race. The first corner the drivers will face is called Elf and is quick right-left combination that leads into a long, full throttle curve.
The rest of the track is simultaneously straight forward and nigh on impossible to get perfectly right. While each corner in and of itself isn't particularly challenging, the constant acceleration and deceleration between them will result in some cars simply getting thrown off. The long straight into La Caixa is one that can make or break a lap.
This all culminates in the tight third sector, where the field can get bunched back up. The sector itself is probably the least complicated, but that will depend somewhat on having run cleanly prior. As we saw at Watkins Glen, don't be surprised to see cars skip the pits between laps, as the long straight will tempt drivers to fly down it at top speed.
Starting Grid
With a tie at the bottom of the driver standings, by rule, pole position goes to the lower finisher at Watkins Glen. That would nominally be Launch Bornado, but Launch also has a one spot grid penalty for knocking Bubba McQueen out of the last race. Fortunately, he'll still start on the front row.
Sheila Dinkum (RM)
Launch Bornado (FR)*
Bubba McQueen (SR)
Rask Sjofar (SB)
The Stig (SB)
Jaap Snellrijder (RM)
Delilah Whipplefilter (FR)
Whiplash (SR)
Once again, each team will have a driver in the top four.
Pit selection is order of team standings. Scandinavian Blitz and Regency Motors are currently tied, so the tie is broken by average starting position fo the team's cars.
Sprite Racing
Force Ravenswood
Scandinavian Blitz
Regency Motors
Barcelona is the home race for Delilah Whipplefilter.
Track History
The SBMRL visited Barcelona last year for the season's final race and it was tightly contested. Jaap pulled away on the second lap, but there were 5 different race leaders. Sprite Racing had a poor showing, but it was Bubba's last place finish that caused him to be fired from Force Ravenswood. It's a memory that the team has not forgotten, as it cost them the team championship.